Our trip from Chagny to Beaune followed the Voie Verte on the Canal du Centre before diverting along a veloroute through some of the best vineyards in the world. The veloroutes can be used by cars, but they are usually away from the main roads and only used by farm traffic. This one was exclusively through the vineyards and some small villages on the way to Beaune. It was a lovely day and we stopped for lunch in an old chestnut orchard where some picnic tables had been placed. We usually buy some sandwiches and fruit and occasionally a 'plat du jour' if we are in a town or village. Cherries and apricots are in season and are at their best right now. You can also pick cherries in the wild as there are plenty of trees by the roads and cycle routes. It was a fairly easy ride and we arrived in Beaune at around 2pm. Unfortunately the hotel staff were away until 5pm and the automatic booking machine did not like our VISA cards so we passed the time in the centre at a shady cafe. We are staying in Beaune for two nights to give our legs a rest and plan the next part of our journey. Do we head north towards Dijon or back south and up the canals to Auxerre?
Lunch stop on the veloroute
Off again!
We looked this winemaker up and some of the wines go for over 300 Euros a bottle!
Typical route map
Meursault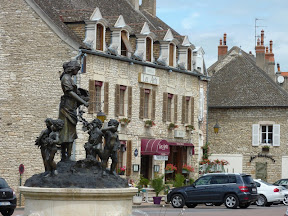 - Posted using BlogPress from my iPad
Location:Rue André Marie Ampère,Beaune,France